Second Vice President
---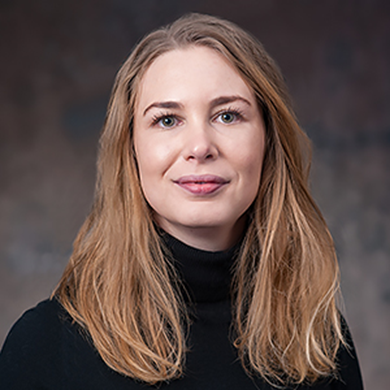 Julie Baldwin
American University
Personal Statement
As a proud Lifetime Member of the SCJA with over a decade of service and commitment to the association, I'm running for the position of 2nd Vice President. My central goals in running for your 2nd Vice President are to: (1) have the association become a leader in making evidence-based changes on the ground in the criminal justice system and our communities and (2) continue to support SCJA's congenial, supportive, fun(!), and unpretentious spirit.
I believe the SCJA can play a critical role in fostering academic-practitioner collaboration and making evidence-based changes in local communities and agencies. I see this being accomplished through SCJA promoting translational research, facilitating practitioner-researcher partnerships, and enhancing student mentorship across all types of career trajectories (teachers, researchers, practitioners). This would also increase diversity of experience and interests throughout the association, enhancing our inclusivity.
My work history has shaped my goals—and appreciation—for the SCJA and puts me in a unique position to accomplish them. As my history includes criminal justice practitioner, academic faculty, research director, and now research faculty, I fully appreciate the importance of translational research, collaboration between practitioners and researchers, and understanding the unique difficulties in working in the criminal justice system,
If elected, I would make a concerted effort to recruit and highlight academic-practitioner panels and hold several events for students geared toward creating mentor-mentee relationships and exploring different career trajectories. Additionally, I envision some type of event, panel, or workshop to facilitate the creation of academic/researcher-practitioner partnerships.
It is my sincere hope that you support me in my endeavor to take my service commitment to the organization to the next stage with your vote. As a graduate student member, I presented research, chaired panels, and received the organization's Outstanding Graduate Student Award in 2012. As faculty, I continued to present research and chair panels at the annual conferences and took on more professional service, including serving as a member of several committees over multiple years (Audit, Membership, and Tom Barker Outstanding Undergraduate Award for Service) and as Director-at-Large on the Executive Board, during which time I began and edited the Crime and Grits newsletter. Throughout my membership , I have worked to increase our organization's growth and promote the SCJA both internally and externally. Throughout my membership, I have volunteered in multiple ad hoc capacities based on the current needs of the association and have made a concerted effort to promote the organization not only regionally but nationally. I am proud to have contributed to our growth in membership and to have encouraged and supported numerous members to take on more active service and leadership roles within the association.
I understand the SCJA spirit and believe it is the most important aspect of the organization itself. I first attended the SCJA conference in 2009 as a doctoral student because of my graduate mentors. They promoted SCJA as a welcoming, rewarding, and less intimidating association, and they were right. It was and still is this environment that I immediately fell in love with and is what drives me to want to continue to be an active contributing member.
Biographical Sketch
Julie Marie Baldwin, PhD, is a research professor in the Department of Justice, Law & Criminology at American University. She specializes in translational and evaluation research with a focus on treatment courts, behavioral and mental health, and subcultures including the military, law enforcement, and gangs. She is nationally recognized expert on veterans treatment courts (VTCs); she serves a research partner and consultant for a variety of courts, agencies, communities, and organizations, fostering strong researcher-practitioner partnerships. Dr. Baldwin has obtained more than $31 million in external funding for her collaborative projects with more than $7 million dedicated VTC work. Her research has been funded by the National Institute of Justice, Bureau of Justice Assistance, National Institute of Corrections, Substance Abuse and Mental Health Services Administration, National Science Foundation, and Oregon Criminal Justice Commission.
Dr. Baldwin is also an Associate Editor of the American Journal of Criminal Justice and serves on the Editorial Board for Justice Quarterly. She previously served as Director at Large for the Southern Criminal Justice Association, Editor in Chief of Drug Court Review, Editor of the Veterans Justice and Mental Health Newsletter for BJA's National Drug Court Resource Center,and Guest Editor of the Drug Court Review's Veterans Treatment Court Issue. She was awarded the Academy of Criminal Justice Science's 2020 Academy New Scholar Award.
Prior to her promotion to research professor, Dr. Baldwin was the associate director for research in the Justice Programs Office and a scholar in residence in the Department of Justice, Law & Criminology at American University (2018-2020) and an assistant professor in the Department of Criminology & Criminal Justice at Missouri State University (2015-2018) and the Department of Criminal Justice at the University of Arkansas at Little Rock (2013-2015). She earned her PhD in Criminology, Law & Society from the University of Florida in 2013.
Before entering her doctoral program, she was a court analyst for the New York State Supreme Court Appellate Division (2008-2009) and a paralegal and Freedom of Information Law administrator for Appeals Bureau of the Kings County (Brooklyn) District Attorney's Office (2007-2008). She obtained her MA in Criminal Justice with a specialization in Criminal Law & Procedure from John Jay College of Criminal Justice (2007) and BA in Criminal Justice from the University of North Florida (2004).
Director-at-Large
---

Susan Dewey
University of Alabama
Personal Statement
Ideological brick walls all too often surround academic and professional practices in criminal justice, with many practitioners dismissing academics as lazy ivory tower elites who lack real-world experience and, in turn, many researchers dismissing practitioners as cynical pragmatists who lack evidence in support of their practices. The result, as any cursory examination of contemporary news media will show, is a toxic political bifurcation of views on issues related to crime, law, and justice. I have a successful track record of working in a wide range of criminal justice settings, including prisons, jails, parole, and transitional housing, as both a practitioner and a researcher. As a Professor and Graduate Director at The University of Alabama, I am ideally positioned to assist SCJA with bridging the gap between criminal justice practice and research by actively engaging our community partners across a wide range of criminal justice fields.
Biographical Sketch
As a Professor of Criminology and Criminal Justice at The University of Alabama, I use institutional ethnography to analyze the intersections between violence, vulnerability, and criminal justice institutions. I am the author or lead editor of 12 books and over 100 peer-reviewed publications in this area of research, which has received support from federal funders such as the National Science Foundation, the U.S. Census Bureau, the U.S. Department of Justice Bureau of Justice Statistics, and Fulbright-Hays, international organizations such as UN Women Pacific, and foundations such as the Wenner Gren Foundation for Anthropological Research, Microsoft Philanthropies, Planned Parenthood of the Rocky Mountains, and the Correctional Education Association. Results of these projects have featured in national media outlets such as The Chronicle of Higher Education, PBS, The Huffington Post, The Washington Post, and The Nation. My book-in-progress, Gun Present: Inside a Southern District Attorney's Battle Against Gun Violence, is co-authored with Tuscaloosa County District Attorney Hays Webb and under contract with the University of California Press.
---

Shelley Keith
The University of Memphis
Personal Statement
I am honored to have the opportunity to run for the Director-At-Large position with the Southern Criminal Justice Association (SCJA). I am a lifetime member of SCJA and have spent my academic and professional career in the Southeast. I completed my undergraduate and PhD at Emory University and my master's degree at Florida State University. I began my career at Mississippi State University where I earned tenure, and am currently an Associate Professor in the Department of Criminology and Criminal Justice at the University of Memphis. My research interests include the social psychological causes of crime focusing on how strain, identity, and emotions affect crime and how social psychological processes affect the dynamics and operations of restorative justice, with a specific focus on restorative justice conferences. I have served the discipline as a session organizer for the referred round tables for the Crime, Law, and Deviance Section of the American Sociological Association, as the Pedagogical Area Program Chair for the Academy of Criminal Justice Sciences, and on the Membership Committee for the American Society of Criminology. Within my university, I have served as the Graduate Coordinator and currently serve on the Faculty Senate. Between these experiences and other service to my University, I know I can contribute to SCJA in the Director-At-Large position.
Biographical Sketch
Shelley Keith is an Associate Professor in the Department of Criminology and Criminal Justice at the University of Memphis. Her research centers on the social psychological causes of crime with an emphasis on the role of identity and emotions. Her recent work has appeared in the American Journal of Criminal Justice, the Journal of Interpersonal Violence, Deviant Behavior, and Feminist Criminology.
---

Lindsay Leban
University of Alabama at Birmingham
Personal Statement
When I first attended SCJA's annual meeting at Atlantic Beach in 2012 as an undergraduate student, I immediately felt welcomed into the SCJA family. The environment was warm and welcoming, and my presentation was met with support and encouragement. Despite being an undergraduate, I was respected as a peer. This experience helped me realize that criminology was a discipline I wished to become a part of.
I continued to attend SCJA as an undergraduate and graduate student, even being fortunate to receive the undergraduate student award in 2013 and the doctoral student award in 2017. Now as an assistant professor, I look forward to SCJA annual meetings every year.
I recognize that my early SCJA experiences helped shape my career goals. I want to serve the organization that had such a profound impact on my decision to go into criminology and on my development as a scholar. I am running this year for the open Director-at-Large position and, if elected, will dedicate myself to promoting and advancing SCJA. Thank you for your consideration.
Biographical Sketch
Lindsay Leban is an assistant professor in Criminal Justice at the University of Alabama at Birmingham. She received her PhD in Criminology, Law, and Society from the University of Florida in 2018. Her research is primarily in the areas of drug/substance use and victimization, with an emphasis on gender and criminological theory. Her work has been published in respected outlets such as Criminology, Justice Quarterly, Journal of Interpersonal Violence, Journal of Criminal Justice, Crime & Delinquency, and Criminal Justice and Behavior.
---

Brenda Vose
University of North Florida
Personal Statement
Dear Friends and Colleagues,
I would like to take this opportunity to announce my candidacy for SCJA Director-At-Large and kindly ask for your support in the upcoming election. I have long admired SCJA, the outstanding work of its members, and am excited at the prospect of becoming more involved in this incredible organization. In the past, I served as Chair of the Local Arrangements Committee for the SCJA Conference in Atlantic Beach, FL and I currently serve on the Editorial Board for American Journal of Criminal Justice.
The SCJA conference experience is like no other. Whether you are a student presenting at your first academic conference, a seasoned pro with over one-hundred presentations to your name, or somewhere in-between. All are made to feel welcome and valued. The collegiality of its members, support for students, practitioner engagement, and the quality of scholarship at SCJA conferences and in every issue of American Journal of Criminal Justice are among the reasons SCJA is a revered organization.
Biographical Sketch
Dr. Brenda Vose (Ph.D., University of Cincinnati) is an Associate Professor and Chair of the Department of Criminology and Criminal Justice at the University of North Florida. Her research interests include police staffing, offender assessment and classification, effective treatment interventions, evidence-based decision-making, and community corrections. Her research articles have been published in various leading discipline outlets, including Policing: An International Journal, Criminal Justice and Behavior, Victims and Offenders, and the American Journal of Criminal Justice.

If elected Director-At-Large, I pledge to honor the rich history and longstanding traditions of SCJA, recognize the evolving needs of the organization and its membership, and work collaboratively to strengthen and advance the organization for years to come. Thank you for considering my request and thanks in advance for your support.